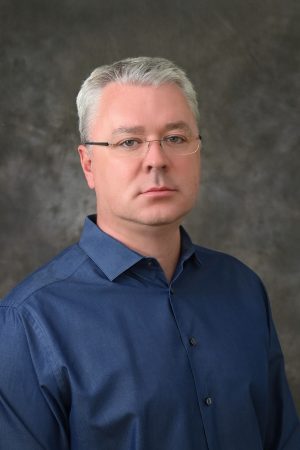 Kirill Afonin, Ph.D.
Professor
Education: M.S.: Saint Petersburg State University Ph.D.: Bowling Green State University
Post-doc: (NIH Research Fellow) National Institutes of Health; (Postdoctoral Fellow) University of California Santa Barbara
Field of Interest: RNA Nanobiology and Drug Delivery
Research Focus:
My expertise is in computational and experimental RNA biology. Nucleic acids, including both DNA and RNA, are biopolymers that can be programmed to fold into nucleic acid nanoparticles (NANPs) that have beneficial uses in nanotechnology with broad applications. We are using this promising technology to pursue the following objectives:
1. ​Nanodesign—The goal of our studies is to correlate the folding and interacting principles of natural RNAs with their biological functions. We then apply this knowledge to combine the motifs in a rational way to form definite and functional RNA nanostructures with precisely controlled and fine-tunable properties. We also focus on engineering novel bioresponsive materials and hydrogels.
2. ​Immunology—The immunotoxicity and immunomodulatory effects of NANPs are poorly understood and have been one of the major impediments in bringing NANPs to clinical trials. We have explored how the optimization of size, shape, and composition of NANPs affects immune stimulation.
3. ​Delivery—The broader therapeutic use of NANPs is diminished by their inability to cross biological membranes due to the negative charge of nucleic acids and their rapid degradation by nucleases in the bloodstream. We aim to investigate possible ways to use synthetic carriers to overcome this barrier.
4. ​Biosensing—By utilizing nanomaterials in biosensor development, we aim to increase the sensitivity of analysis through a myriad of sensors, including programmable nanoprobes and nanopore sensing.
5. ​Therapeutics— Multiple clinical trials with several FDA approvals have demonstrated the great potential for RNA pharmaceuticals. We aim to further develop RNA nanoparticles that have a potential to actively self-assemble and further identify, target, and eliminate diseases.
6. ​Dynamic structures—The development of nucleic acid-based logic gates and switches provide conditionally-activated pathways which can simultaneously sense and eliminate targeted diseases. In designing NANPs which can dynamically interact and communicate with one another and their environments, we aim to utilize these structures as multi-tools of nanotechnology.
About:
Dr. Afonin graduated from Saint Petersburg State University with a M.S. in Chemistry, followed by a Ph.D. in Photochemistry earned from Bowling Green State University, Ohio. In addition, he also obtained a Graduate Certificate in Bioinformatics, Proteomics/Genomics. In the following three years, Dr. Afonin completed a Postdoctoral Fellowship in Chemistry and Biochemistry at the University of California Santa Barbara. In 2011, he was invited as a Research Fellow to the National Cancer Institute, NIH where he established and managed an experimental branch within the Computational RNA Structure Group. He started his tenure-track appointment at UNC Charlotte in 2015, was promoted with permanent tenure to the rank of Associate Professor in 2019, and to the rank of full professor in 2021. Dr. Afonin currently serves as a founding council member and vice-president of International Society of RNA Nanotechnology and Nanomedicine. Among other awards, he is a recipient of two NIH Fellows Awards for Research Excellence (FARE), a prestigious NIH Maximizing Investigators' Research Award (MIRA R35), and two NIH R01s.
Recent Publications:
Full list of publications can be found: Google Scholar and/or Pubmed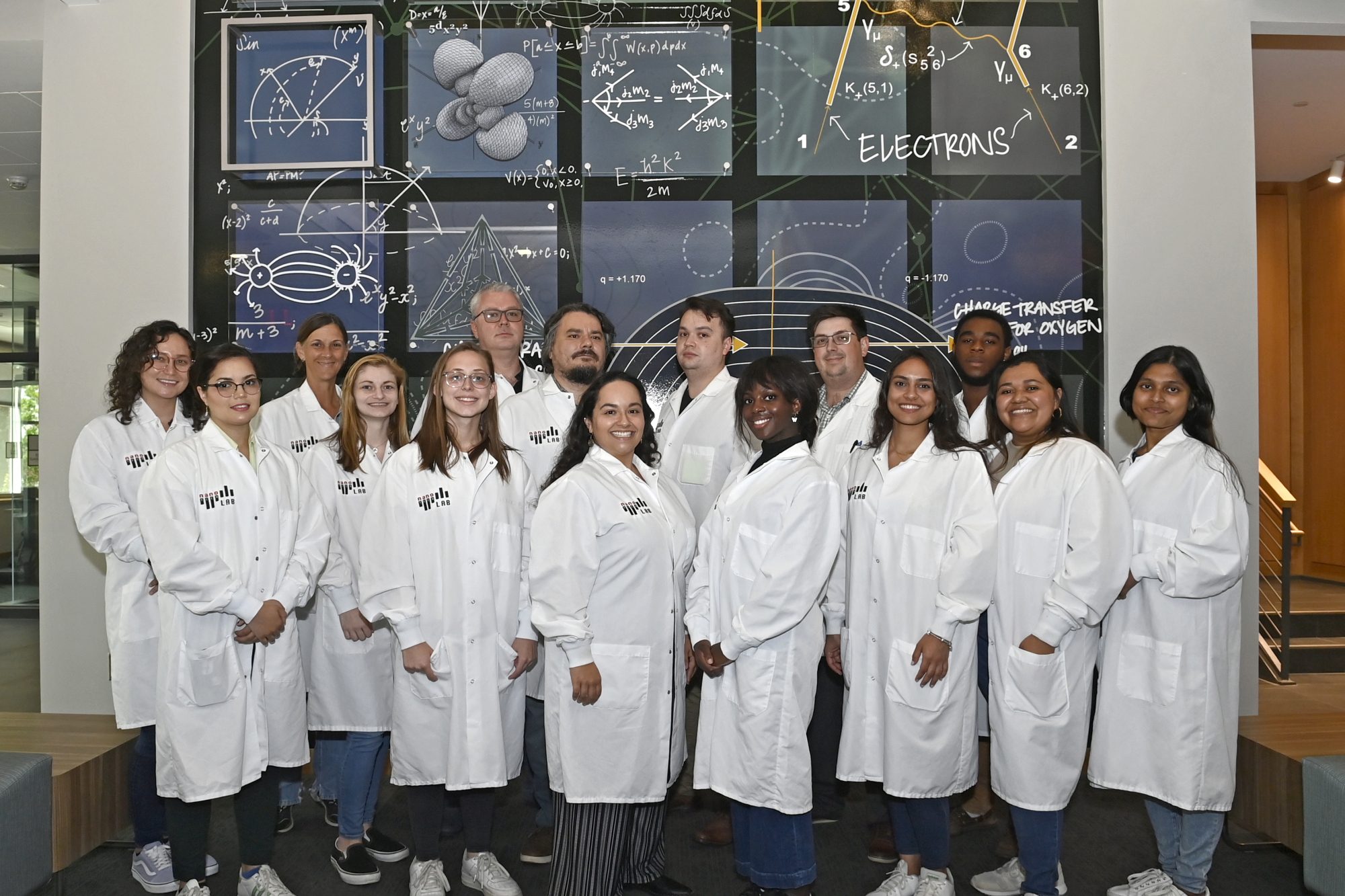 Awards:
2021 Maximizing Investigators' Research Award (MIRA R35), NIH
2021 Integration of Undergraduate Teaching and Research Award
2018 Elected Full Member of Sigma Xi: The Scientific Research Honor Society
2015 Wells Fargo Foundation Faculty Excellence Award
2015 Wells Fargo Faculty Fellowship Award
2014 NIH Fellows Award for Research Excellence (FARE)
2013 NIH Fellows Award for Research Excellence (FARE)
Students' Awards:
2022 Alex Rolband (Ph.D. student): Graduate School Summer Fellowship, UNC Charlotte
2021 Alex Rolband (Ph.D. student): winner of the Mining for GOLD competition, UNCC
2021 Melina Richardson (undergraduate): UNC Charlotte Award in Biochemistry
2021 Doaha Awad (undergraduate): best oral presentation in Science, Technology, and Engineering at 2021 Undergraduate Research Conference (URC), UNC Charlotte
2021 Morgan Chandler (Ph.D. student): 2021 Dissertation Completion Fellowship, UNCC
2021 Preston L. Tolley (undergraduate student), J.J. Hendley Scholarship, UNCC
2021 Jonathan Black (undergraduate): best oral presentation in Cellular/Molecular Biology at 82nd Annual Southeastern Biologists Research Conference
2021 Seraphim Kozlov (high school student): 2nd place in Biomedical Engineering at the Frederick County Science and Engineering Fair
2020 Morgan Chandler (Ph.D. student): Graduate Student Poster Talk Award Winner, NC Photochem 2020 (virtual)
2020 Weina Ke (Ph.D. student): 2020 Dissertation Completion Fellowship, UNC Charlotte
2020 Justin Halman (Ph.D. student): 2020 Dissertation Completion Fellowship, UNC Charlotte
2020 Morgan Chandler (Ph.D. student): 2020-21 Thomas L. Reynolds Graduate Student Research Award
2019 Morgan Chandler (Ph.D. student): First Place at Poster 2.0 Competition, UNC Charlotte
2019 Dana Elasmar (undergraduate): James Hovick Memorial Award, UNC Charlotte
2019 Alex Rolband (undergraduate): 2019 Undergraduate Award in Analytical Chemistry, ACS Division of Analytical Chemistry and the Journal of Analytical Chemistry, UNC Charlotte
2019 Justin Halman (Ph.D. student): First Place Overall in the 9th Annual CBES Graduate Student Poster Competition
2019 Morgan Chandler (Ph.D. student): CBES MED Associate Winner in the 9th Annual CBES Graduate Student Poster Competition
2019 Justin Halman (Ph.D. student): Graduate School Summer Fellowship, UNC Charlotte
2019 Allison Tran (undergraduate): Best Oral Presentation Award at the 2019 Undergraduate Research Conference, UNC Charlotte
2019 Morgan Chandler (Ph.D. student): Second Place in CLAS Oral Presentations at the 2019 Graduate Research Symposium, UNC Charlotte
2019 Morgan Chandler (Ph.D. student): Best Oral Presentation Award at Gordon Research Seminar on RNA Nanotechnology (Ventura, CA)
2018 Justin Halman (Ph.D. student): First Place for Oral Presentation at the Multifunctional Materials Workshop, NC State University
2018 Morgan Chandler (Ph.D. student): Second Place for Oral Presentation at the Multifunctional Materials Workshop, NC State University
2018 Melina Richardson (undergraduate): Second Place in the Summer Research Symposium, UNC Charlotte
2018 Sameer Sajja (M.S. student): Summer Graduate Fellowship Award from the College of Liberal Arts & Sciences, UNC Charlotte
2018 Lauren Lee (undergraduate): UNC Charlotte Award in Biochemistry
2017 Strahinja Talic (undergraduate): ACS Division of Inorganic Chemistry Award
2017 Morgan Chandler (undergraduate): UNC Charlotte Award in Biochemistry
2017 Justin Halman (Ph.D. student): First Place in CLAS Oral presentations at UNC Charlotte's 2017 Graduate Research Symposium
2017 Justin Halman (Ph.D. student): CiRA Research Internship for Summer 2017, used for travel and one month of work at Kyoto University (Kyoto, Japan)
2017 Justin Halman (Ph.D. student): Second Place overall in the 7th Annual CBES Graduate Student Poster Competition
2016 Justin Halman (Ph.D. student): Second Place overall in the 6th Annual CBES Graduate Student Poster Competition
2016 Kyle Roark (M.S. student): Herschel and Cornelia Everett Foundation First Year Graduate Fellowship