2016/2017 Thomas D. Walsh Graduate Research Fellow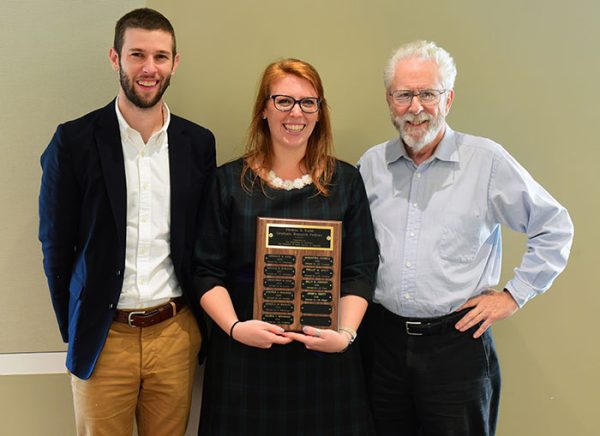 The Thomas D. Walsh Graduate Research Fellowship, made possible by the generous support of Dr. Thomas D. Walsh (link to web page), recognizes outstanding contributions by M.S. candidates to graduate research. Returning graduate students are eligible for this prestigious award after their first year. The Thomas D. Walsh Graduate Research Fellowship supports the winner with a research assistantship and tuition support through their second year.
We are congratulating the 2016/2017 Thomas D. Walsh Graduate Research Fellow Jessica Shott! We will briefly recognize Jessica during the new graduate student reception on Friday, August 19 at 12:30 PM, and honor the awardee during the Walsh Graduate Student Reception 2016 (Fall 2016 semester – TBA).
Jessica Shott graduated from James Madison University with her B.S. in Chemistry in 2015. During her time as an undergraduate, she participated in research under Dr. Brycelyn Boardman synthesizing polymerizable thienyl phosphine palladium(II) complexes. Through her involvement and leadership of student organizations, she has had the opportunity to coordinate and perform a multitude of chemistry outreach events and plans to continue to share her passion for science with others during her professional career.
Jessica is currently conducting research in the laboratory of Dr. Christopher Bejger (link to webpage) studying the hierarchical assembly of nanoscale materials from structurally and electronically complimentary molecular clusters. These atomically precise clusters can be considered analogous to atomic precursors due to their collective properties and delocalized electronic structures and are often known as superatoms. The solid state materials formed from these superatomic building blocks have been shown to exhibit physical properties that differ from those of the individual precursors. However, the structure of the resulting superlattices remains largely unpredictable. One of the main goals of the Bejger research group is to analyze the lattices formed from various superatom precursors to elucidate a trend that would enable a higher degree of predictability in the hierarchical assembly of such materials.
The Department of Chemistry is also proud of the other three finalists: Joseph Franklin, John Patterson and Kyle Roark. Their brief biographical sketch and research abstract summarize are given below.
---
Joseph Franklin, an early-entry candidate in the chemistry M.S. program, received his B.S. degree in chemistry from UNC Charlotte in the spring of 2016. Joseph joined Dr. Etzkorn's research laboratory as an undergraduate researcher to learn organic synthesis. He plans to pursue a PhD in pharmaceutical sciences post-graduation and envisions to seeking employment in drug development. Joseph, a North Carolinian from Morganton, has worked with Beanstalk Builders to construct and manage zip line courses, climbing walls and adventure playgrounds across NC. His hobbies include exploring the mountains and cliffs of the Linville Gorge, playing disc golf and the drums.
Upon transitioning into the early entry M.S. program at UNC Charlotte, Joseph is continuing as a research student in organic synthesis, mentored by Dr. Markus Etzkorn (link to webpage). He is targeting novel, laterally displaced bisarene-scaffolds with tunable physicochemical properties. His M.S. thesis project combines the synthesis of complex molecular architectures, the systematic study of these scaffolds with respect to fundamental research questions (non-classical carbocations, unique hydrocarbon frameworks), and along long-term goals the property-driven synthesis of heterocyclic scaffolds with potential applications as n-type semiconductors in organic electronics.
---
John Patterson was born and raised in Nashville, Tennessee, and received a B.S. degree in chemistry in 2015 from the University of Tennessee at Chattanooga, where he conducted research in physical chemistry with Prof. Han Park. John began his work at UNC Charlotte under the supervision of Dr. Daniel Rabinovich (link to webpage) in October 2015, and he is particularly proud of the work carried out this summer by a talented high school student under his direct supervision, a rewarding mentoring experience that has reinforced his intention to pursue a Ph.D. degree in chemistry upon graduation next May.
John's main project involves developing the syntheses and studying the reactivity of six new ligands containing sulfur or selenium donor groups. He has successfully prepared the target molecules within the past few months and has subsequently isolated around 30 compounds thereof, more than half of which have been structurally characterized. In particular, a range of metal complexes using ruthenium(II), copper(I), gold(I), and mercury(II) have been prepared, some of which could be used as molecular precursors to solid-state photovoltaic materials and potential applications to catalysis.
---
Brandon Kyle Roark, a North Carolinian from Rutherfordton, received his B.S. in Chemistry with a biotech concentration from Western Carolina University, where he graduated magna cum laude from the Honor's College. While attending WCU, he worked in two undergraduate research laboratories under the direction of Dr. Dinkelmeyer (synthesis of 1,10- phenanthroline,5,6-dione derivatives) and during his senior year in Dr. Youker's molecular biology group (transfections using GFP, confocal laser scanning microscopy), respectively. He has been attending UNC-Charlotte since fall 2015 and joined the research group of Dr. Kirill Afonin (link to Webpage).
Kyle's research targets the preparation and systematic study of theranostic agents, linking the field of bio-sensing to colloidal semi-conductor nanocrystals known as quantum dots (QDs). These nanoparticles exhibit unique electronic and optical properties due to their nanoscale regime. Streptavidin decorated quantum dots can strongly interact with biotinylated DNA which cross-link the QDs and produces a lattice. The Afonin group has developed a novel nucleic acid bio-sensing proof of concept using ssDNA toehold interactions and thermodynamically controlled strand displacement in the presence on an oncogene (KRAS). The strand-displacement causes the re-association of double biotinylated DNA and when QDs are added, assemble lattices that can be visualized by agarose gel electrophoresis. These lattice formations have been shown to assemble within 30 seconds and at 37°C. In addition to gel visualization, when the lattices are formed they experience less fluorescence blinking and cytotoxicity. Current and future studies include using RNA-DNA hybrids as a theranostic probe that when conditionally activated cause the assembly of the lattice (diagnostic) and release of Dicer Substrate RNAs that are processed into siRNAs (therapeutic) to silence malicious gene expression.