2017/2018 Thomas D. Walsh Graduate Research Fellowship – Awardee Justin A. Zuczek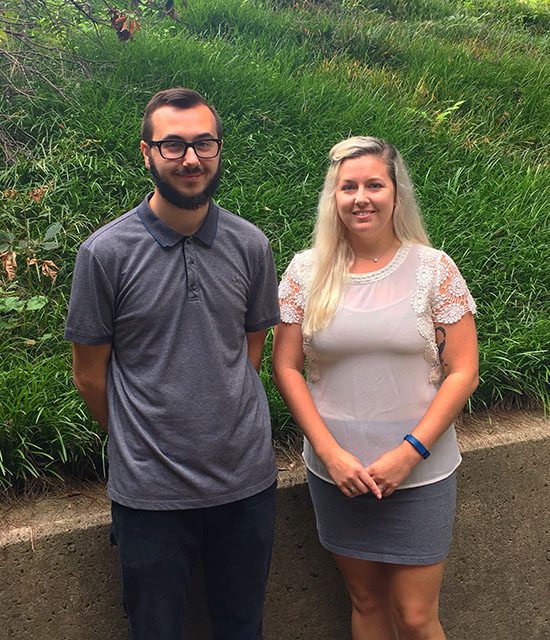 The Thomas D. Walsh Graduate Research Fellowship, made possible by the generous support of Dr. Thomas D. Walsh, recognizes outstanding contributions by M.S. candidates to graduate research. Returning graduate students are eligible for this prestigious award after their first year. The Thomas D. Walsh Graduate Research Fellowship supports the winner with a research assistantship and tuition support through their second year.
During the last application cycle the Master's Program Committee decided on two finalists:
Victoria L. Hamilton received a B.S. in Chemistry from the University of North Carolina at Charlotte in 2016. Victoria joined Dr. Markus Etzkorn's research laboratory as an eager undergraduate researcher to pursue her growing passion in organic synthesis. She embraced the opportunity to further expand her skillset and experience during a collaboration through Dr. Ogle with Chemring Detection Systems. The project concluded with the release of the PGR-1064, a handheld device that identifies chemicals, explosives, and narcotics in 10 seconds utilizing Raman spectroscopy. Victoria has the intention of pursuing a Ph.D. in chemistry upon graduation.
Victoria is continuing her research in the Etzkorn group, developing organic syntheses for unusual molecular frameworks. She is targeting novel fluorinated dendralene derivatives that are anticipated to deliver compounds with intriguing physicochemical properties or novel biological profiles. Her M.S. Thesis Project is expected to quickly lead to: (1) a structurally diverse library of compounds to probe their biological activity, (2) ivyanes, i.e., novel cyclopropyl derivatives, with unique optical properties for applications in material science, and (3) novel organometallic fluoroalkene complexes to expand our understanding of their structure-reactivity pattern.
Justin A. Zuczek graduated from Coastal Carolina University in 2015 with a B.S. in chemistry. He conducted three semesters of research with Dr. John Goodwin focusing on electrochemical dioxygen reduction reactions catalyzed by cobalt phthalocyanine complexes. During his entire undergraduate career, he worked as a quality assurance intern at an amorphous metals factory in Myrtle Beach, SC. Justin has been attending UNC-Charlotte since Fall 2016, and plans to join the aerospace industry after completion of his degree.
Justin joined the research group of Dr. Jordan Poler study hybrid nanostructured carbon materials as potential electrodes in supercapacitors. The Poler group has shown that molecular spacers intercalated between carbon nanotubes can increase ion-transport, electrical conductivity, dispersion stability, and energy density in supercapacitors compared to pristine nanotubes. Carbon nanotubes possess a high specific surface area on which charge can be stored making them ideal for supercapacitors. However, aggregation of nanotube dispersions reduces ion-accessible surface area which poses the biggest problem. Using molecular spacers to separate, but also connect nanotubes is being studied. Most of my work focuses on the characterization of four novel divalent, dinuclear coordination complexes as potential molecular spacers between carbon nanotubes. These compounds have been synthesized by collaborators in Russia. Electrochemical, optical, and dispersion stability tests are conducted to monitor redox activity, electronic transitions, and binding isotherms/kinetics, respectively. Justin's thesis project goal is to fully characterize all four molecular spacers and access their potential in energy storage devices.
Both candidates gave excellent presentations to Dr. Walsh and a jury panel. Please congratulate Justin A. Zuczek, the 2017/18 Walsh Graduate Research Fellow. The Department of Chemistry will recognize Justin's achievement briefly during the fall 2017 student reception on Friday, August 18, and honor him during the Walsh Graduate Student Reception 2017 (TBA).