Dr. Tom Schmedake – Recipient of 2017 Provost's Faculty Award for Community Engagement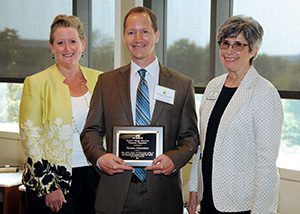 Congratulations to Dr. Tom Schmedake for being named the recipient of the 2017 Provost's Faculty Award for Community Engagement!!!. This award honors a tenured faculty member whose teaching, research, and service records embody the University's commitment to civic involvement, and whose work strengthens the relationship between UNC Charlotte and the larger community. Tom received the award for his outstanding record of public service, student engagement in the community, and community-engaged research.
Tom's public service activities benefit Charlotte Mecklenburg School teachers, K-12 students, and the general public. Through his work with the UNC Charlotte Center for STEM Education, Tom designed and led workshops to introduce high school teachers to laboratory experiments and demonstrations to enhance student learning. By partnering with Discovery Place Museum, he led workshops on "Science and Society" and Cool Science Demos" for CMS teachers and Discovery Place STEM Fellows; workshops on dye-sensitized solar cells as part of Nano Discovery Day; and a station on solar cells at "Charlotte Mayor's Youth Employment Program – Career Discovery Day." He also brings the excitement of chemistry to local schools by performing chemistry demonstrations for K-12 students. Tom is a longtime member of the North Carolina Science Festival steering committee for UNC Charlotte's Science and Technology Festival, an annual event that attracts thousands of visitors of all ages to campus. In addition to playing a key role in organizing the campus event and recruiting and directing approximately 40 student volunteers, Tom performs an engaging, highly popular demonstration on combustion chemistry, which earned him the nickname "Dr. Boom."
In addition to his work with the UNC Charlotte Science and Technology Expo, Tom engages students in the community through Nano Discovery Day at Discovery Place Museum each summer. In this event, students from the Nanoscale Science Summer Undergraduate Research Experiences (NanoSURE) program, an NSF-funded Research Experiences for Undergraduates (REU) program Tom directs, perform demonstrations and discuss nanoscale science phenomena with approximately 2,500 Charlotte community members each year. He has also engaged his Advanced Inorganic Chemistry class in a service learning program with a local elementary school.
Tom as has a strong record of community-engaged research. For several years he conducted collaborative research with faculty and students at Johnson C. Smith University on the development of electrochromic materials. He has mentored numerous high school students in his research program, several of which are co-authors on peer-reviewed publications reporting on research conducted in his laboratory, and who have won prestigious honors and awards. Tom has also served as Coordinator for UNC Charlotte's ACS Project SEED program for the past seven years. This program enables underrepresented high school students from the Charlotte region to participate in a laboratory research experience with a faculty member from the UNC Charlotte Chemistry Department. The student participants present their work at one of the monthly meetings of the Carolina-Piedmont section of the American Chemical Society.
The Provost's Faculty Award for Community Engagement carries a prize of $2,500 to enhance the community engagement work of the recipient. Congratulations to Tom for receiving this richly deserved honor!