Award for Outstanding Teaching by a Full-Time Lecturer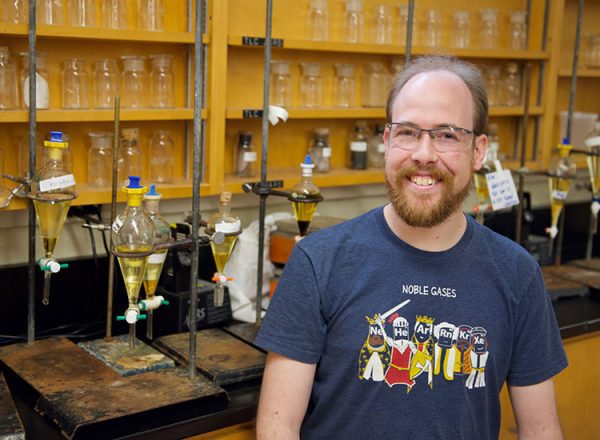 Jacob Horger has been a lecturer and the organic lab coordinator in the Chemistry Department at UNC Charlotte since fall 2010. He received his doctorate in chemistry from the University of South Carolina in 2010. While a doctoral student, he was a three-time winner of the Joseph Bouknight Teaching Award.
At UNC Charlotte, Horger teaches a number of organic chemistry courses and labs. In these, he uses a variety of different pedagogical strategies to reach his students. These include active learning activities, in-class problem solving, specification grading, and collaborative laboratory projects.
The efficacy of his unorthodox pedagogy was a common theme in his many award nominations by his students. "I have never had a teacher so passionate and dedicated to making sure their students succeed," one student wrote. "Organic is such a difficult topic but I feel Dr. Horger he makes it much easier to (comprehend). He utilizes different methods in class to be sure we understand the topics."
The awards committee was impressed by Horger's willingness to continually revamp his courses for his students' benefit, by his deployment of non-traditional approaches in the classroom, and by his genuine concern that students master skills necessary to continue their studies.