Eva Ge, Ph.D.
Eva received her BS in chemistry in 2013 from Cornell University, where she worked with Prof. Yimon Aye. She then moved to Princeton University for her PhD studies with Prof. Tom Muir, studying the biochemistry of the chromatin modifying complex PRC2. She joined the Chang lab in 2019 and is interested in the role of copper in biology. In her spare time, Eva enjoys live music and keeping up with current events.
Education & Training:
B.A. Chemistry and Chemical Biology, Cornell University
Ph.D. Chemistry, Princeton University
Postdoctoral Scholar, University of California Berkeley
Fields of interest: Bioinorganic chemistry, chemical biology, peptide and protein chemistry, enzymology
Research focus: The Ge group is interested in the chemistry and biology of modified proteins, specifically the crosstalk between covalent protein posttranslational modifications (PTMs) and metal binding, and how this crosstalk contributes to human health and the development of disease states such as cancer and neurodegeneration. Research will combine techniques in peptide and protein chemistry, biochemistry (including air-free), enzymology, and cell biology.
http://www.cchem.berkeley.edu/cjcgrp/bios/EvaGe.html
Laura Casto-Boggess, Ph.D.
Education & Training:
B.S. Chemistry & Mathematics, West Virginia Wesleyan College
Ph.D. Analytical Chemistry, University of Tennessee, Knoxville
Postdoctoral Scholar, University of California, Berkeley
Postdoctoral Fellow, West Virginia University
Field of Interests: Analytical Chemistry, Microfluidics, Capillary Electrophoresis, Measurement Science, Astrobiology
Dr. Casto-Boggess' research interests are at the interface of measurement science, engineering, planetary science, and biology to build instrumentation and advance analysis methods for understanding life or extraterrestrial chemistry out of this world. Research in the Casto-Boggess Lab combines microfluidic technologies, capillary electrophoresis, and optical detection methods to tackle problems currently limited by measurement science capabilities and address concerns around small volume sample handling, rapid analysis, high sensitivity detection, and temporal resolution.
Martin Panigaj, Ph.D.
M.S.: P. J. Safarik University in Kosice, Slovak Republic
Ph.D.: Charles University in Prague, First Faculty of Medicine, Czech Republic
Post-doc: (ORISE fellow) FDA, CBER, Division of Cellular and Gene Therapy
Field of Interest: Everything about RNA or rephrasing Bubba from the movie Forrest Gump- "Anyway, like I was sayin', RNA is the fruit of the nature. You can barbecue it, boil it, broil it, bake it, saute it. There's uh, RNA-kabobs, RNA creole, RNA gumbo. Pan fried, deep fried, stir-fried. There's pineapple RNA, lemon RNA, coconut RNA, pepper RNA, RNA soup, RNA stew, RNA salad, RNA and potatoes, RNA burger, RNA sandwich. That- that's about it."
Research Focus:
– immunomodulation by nucleic acid-based nanoparticles (NANPs)
– conditional activation of nucleic-acid based nanoparticles (NANPs)
– assembly of functional NANPs in bacterial and mammalian cells
– targeted delivery of NANPs by aptamers
So far in theory I am also interested in the evolution of functional noncoding RNAs and the viral RNA motives that promote virus survival.
Theresa Black, M.S.
Army Veteran
Education:
B.S. in Biochemistry from Albright College
M.S. in Chemistry from UNC Charlotte
Eric McKenzie, Ph.D.
Education: B.S.: University of North Carolina at Chapel Hill Ph.D.: Indiana University Bloomington Fields of Interest: General and Analytical Chemistry Bio:
Eric McKenzie received his B.S. in Chemistry and B.A in Modern European History from the University of North Carolina at Chapel Hill in 2016. Eric's undergraduate research under Professor Thomas J. Meyer focused on construction of dye-sensitized photoelectrosynthesis cells and synthesis of phosphonate-derivatized ruthenium complexes. He later earned his Ph.D. in 2022 at Indiana University under the supervision of Professors Dennis G. Peters and Stephen C. Jacobson, where he studied electroreduction of aryl halides through homo- and heterogeneous electron-transfer catalysis.
Eric has taught both general and analytical chemistry. In particular, he looks to focus on bettering the first-year experience in introductory level chemistry courses and lowering achievement gaps across the field.
Jessica K. White, Ph.D.
Adam B. Fessler, Ph.D.
Jay Foley, Ph.D.
Education:
B.S. (Chemistry, with High Honors): Georgia Institute of Technology
M.S. (Chemistry): University of Chicago
Ph.D. (Chemistry): University of Chicago
Postdoc: Center for Nanoscale Materials, Argonne National Lab
Field of Interest: Physical Chemistry
Research Focus: Dr. Foley is a theoretical physical chemist with an interest in light-matter interactions in nanoscale and molecular systems.
Teaching: Dr. Foley loves teaching students about physical chemistry, theory and computation, and nanoscale phenomena.
My group participates in a collaborative called the "Enhancing Science Courses by Integrating Python" (ESCIP) Network. We are building a set of interactive and open Jupyter notebooks, and are also hosting a series of regional workshops to build capacities for integrating python programming into Chemistry, Physics, and Astronomy courses.
Awards:
Department of Energy Computational Chemical Science Award – 2022-2025

National Science Foundation CAREER Award – 2021-2026

Research Corporation for Scientific Advancement Cottrell Scholar Award – 2019-2023

American Chemical Society Petroleum Research Fund Undergraduate New Investigator Award – 2018-2020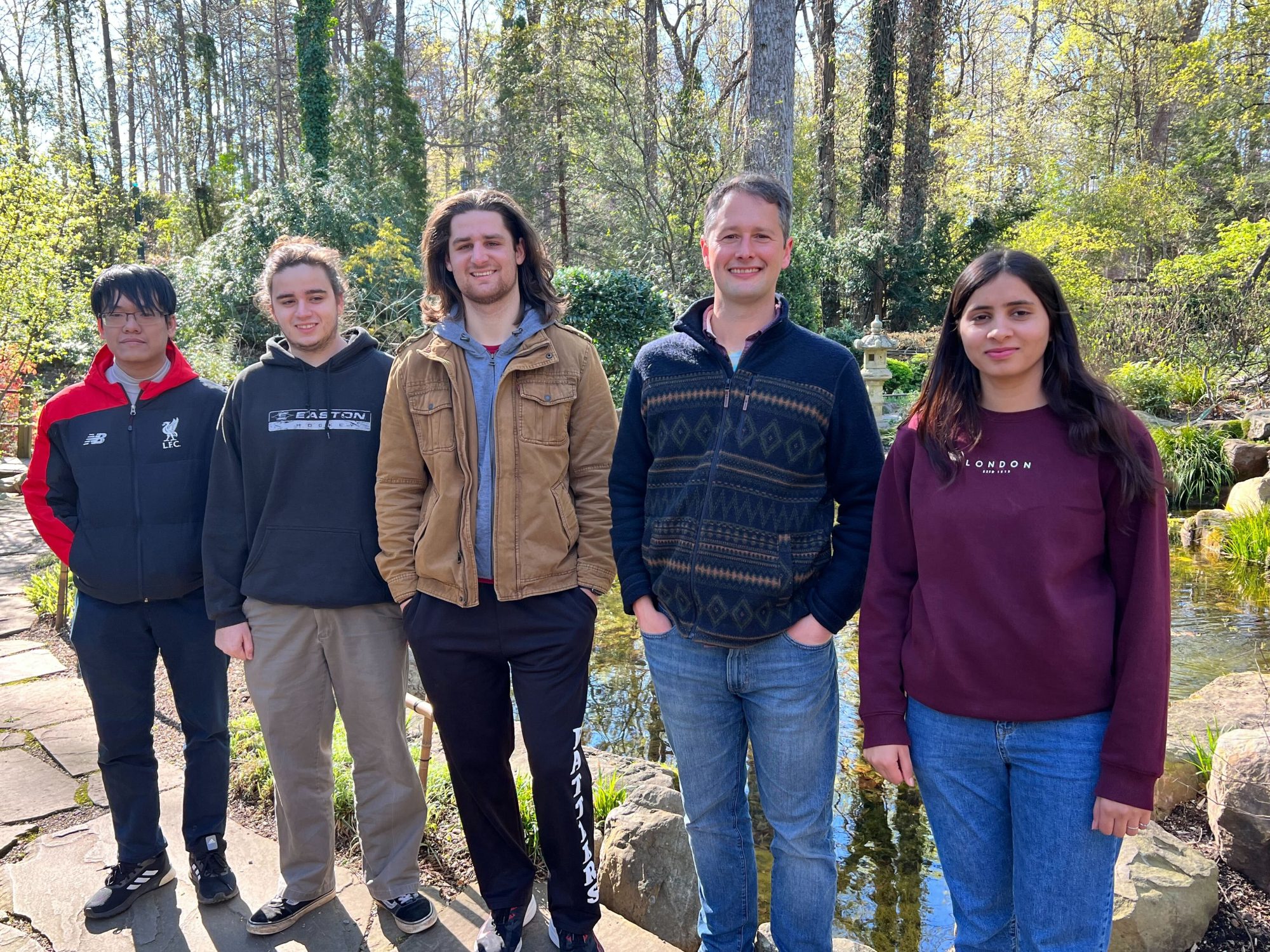 Lauren Woods, Ph.D.
Faculty Advisor to the UNCC Chemistry Club Member of the STEM Academy since Fall 2020 Member of the Active Learning Academy since Fall 2021 Education: B.S. Concentration in Chemistry, minor in Physics, Morehead State University, Morehead, Ky Ph.D. in Physical Chemistry, Montana State University, Bozeman, Mt Postdoctoral Fellow: Department Biomedical Engineering, University of Wisconsin, Madision, Wi Fields of Interest: General and Physical Chemistry Courses Taught: General Chemistry I & II and their labs, Quantitative Analysis lab, Physical Chemistry II lecture, Physical Chemistry I & II labs.
Sarah Wells, Ph.D.
Field of Interest: General Chemistry, Organic Chemistry, Chemistry Education
Courses Taught: CHEM 1251 General Chemistry 1
B.S.: Grove City College Ph.D.: University of Pittsburgh